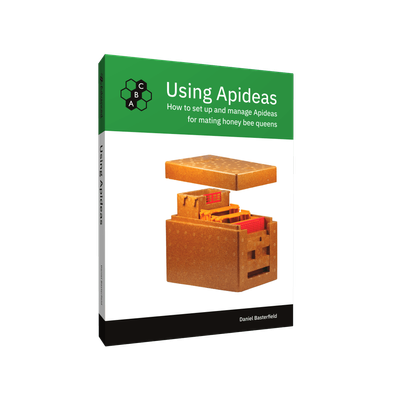 Using Apideas - softback
£25.00
The Apidea mating mini-nuc is well known but comes without instructions. Despite its popularity, advice on using an Apidea is not always easy to come by, and can be variable in quality and relevance to the British climate. Our purpose with this new book is to provide a good single
reference for using the Apidea in particular, and mini-nucs in general.
We run up to sixty Apideas at any given time in our queen raising activities at our honey farm in Devon. At so many points in this book I've been tempted to add the phrase "ask me how I know"
to underline a piece of advice with a sense of self-deprecating humour. The simple truth is that we worked it out as we went along, and have learnt by making most of the mistakes imaginable. The point of writing it all down is to help you short-cut that learning process and avoid some of the frustrations. Thus what we present here has evolved as our working practice during forty years of running many Apideas at a time.
Using Apideas comprises 250 pages with over 280 colour photos and illustrations.
SKU: 10014